Home | Gift Guide Index | Top Green Toys | Top Green Baby Gifts | Top Green Adult Gifts | Top Ten Green Toddler Toys | Natural, Non-Toxic Dolls | Eco Friendly Dollhouses
---
Top Green Toys for Christmas 2014!!
Wooden toys were the first type of toys kids came to know. Dads would whittle a piece of wood to create toys in the shapes of animals, wooden dolls, puppets on strings, and toy cars. Kids would play for hours with these toys. Once the kids outgrew them, they could be passed on to younger kids.

Wooden toys have not lost their luster or durability but they have been passed over for the more colorful plastic types that talk and move. When kids are young, the one thing they have is their imagination. Wooden toys inspire the use of the imagination during play.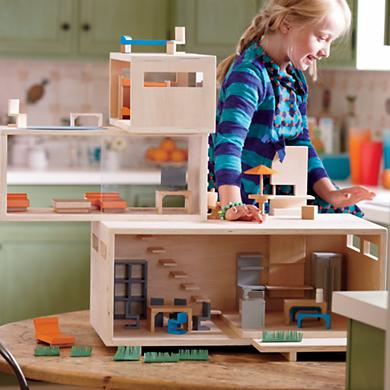 The "play" should come from the child's mind... not from the toy itself.

Wooden toys are also environmentally friendly. Many are used in their natural wooden state. Paints used on eco friendly toys are non-toxic and safe for kids. In addition to wood toys there are also cloth toys with natural fibers and toys made from recycled materials. Buying green toys are some of the smartest consumer purchases you can make.

This Modern Dollhouse is such a site to behold! It takes a classic dollhouse and goes to town with it, making it a modern dream home fit for any eco conscious doll family. It has beautiful modular architectural design that I am a huge fan of. Crisp vertical and horizontal lines come together for a modern, minimalist look that's nothing like your great-grandmother's dollhouse. It has three floors, floor to ceiling "windows", an Outdoor terrace with fireplace, tongue and groove construction, and rounded corners and smooth, sanded edges. It is unpainted and made of Natural unfinished birch plywood. Add dolls and matching furniture if you care to.


Available at Land of Nod for only $199.00 BUY NOW!

Need some more ideas? Browse below for the hottest and best natural, green Christmas toys for kids. There are great creative play toys for imaginary cooking and kitchens, great sensory learning toys for preschoolers, and even some nifty building blocks, cars, and tool sets. Have a very merry GREEN Christmas! Also check out our Top Ten Green Toddler Toys and Bamboo Toys!

Presenting Apple Pie is as easy as 1-2-3-4 with the Make and Serve Apple Pie Set from Melissa and Doug! With four easy steps, your little chef will be proud to assemble and present this All-American dessert sensation! Place the bottom crust in the pie plate, fill with the apple slices, then put the top crust into place and "bake" and serve... as easy as pie! The set comes with all the ingredients, an oven mitt, wooden knife, pie server and the pie plate.

Available at Amazon for only $16.40 BUY NOW!
Need a kitchen? Check out our KidKraft Grand Gourmet Corner Kitchen review.

We Also Recommend: